Gigs
23/02/19 - Winter Jump
22/02/19 - Winter Jump
29/09/18 - Trondheim
VSN
28/09/18 - Trondheim
VSN
27/09/18 - Asker Jazzklubb
01/09/18 - Oslo Balboa Weekend
19/07/18 -
Molde Jazzfestival
18/07/18 - Molde Jazzfestival
30/06/18 - New Orleans Workshop, Stortorvet, Oslo
24/02/18 -
Winter Jump
20/01/18 -
Scandinavian Shuffle
09/12/17 - Bårdar Swing Club Christmas Party
30/09/17 - Swing wedding party
02/09/17 -
Oslo Balboa Weekend
25/02/17 - Winter Jump
16/11/16 - Herr Nilsen Jazz club
03/09/16 - Oslo Balboa Weekend
24/06/16 - Ørje Jazz festival
27/02/16 - Winter Jump
25/11/15 - Herr Nilsen Jazz club
21/02/15 - Winter Jump
06/12/14 - Bårdar Swing Club Christmas Party
11/10/14 - Cottontails, Bergen
14/08/14 - Oslo Jazz Festival
22/02/14 - Winter Jump
06/09/13 - New Orleans Workshop, Gamla
02/08/13 - New Orleans Workshop, Gamla
20/03/13 -
Nittedal Jazz club
08/12/12 - Bårdar Swing Club Christmas Party
08/12/12 - Glasshuset, Oslo
27/10/12 - Lillestrøm Jazz club
10/03/12 - Winter Jump
21/01/12 - Scandinavian Shuffle
12/01/12 - Herr Nilsen, Oslo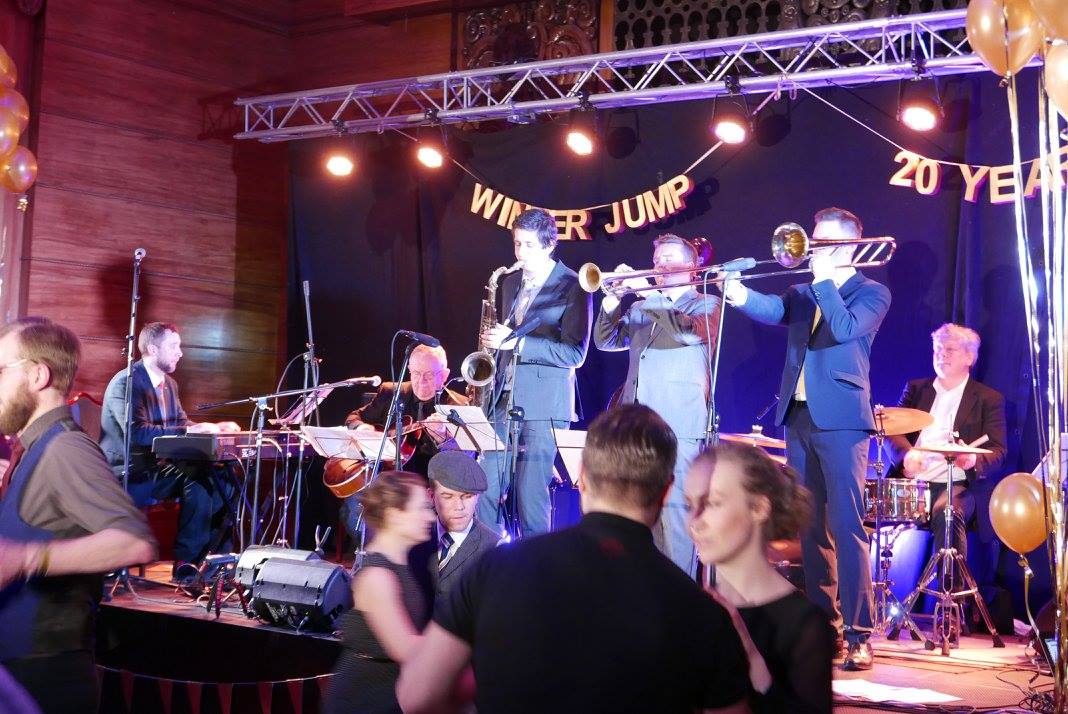 The line-up varies a bit from gig to gig, because, well, you know, life, but what you might call the "hard core" of the band is...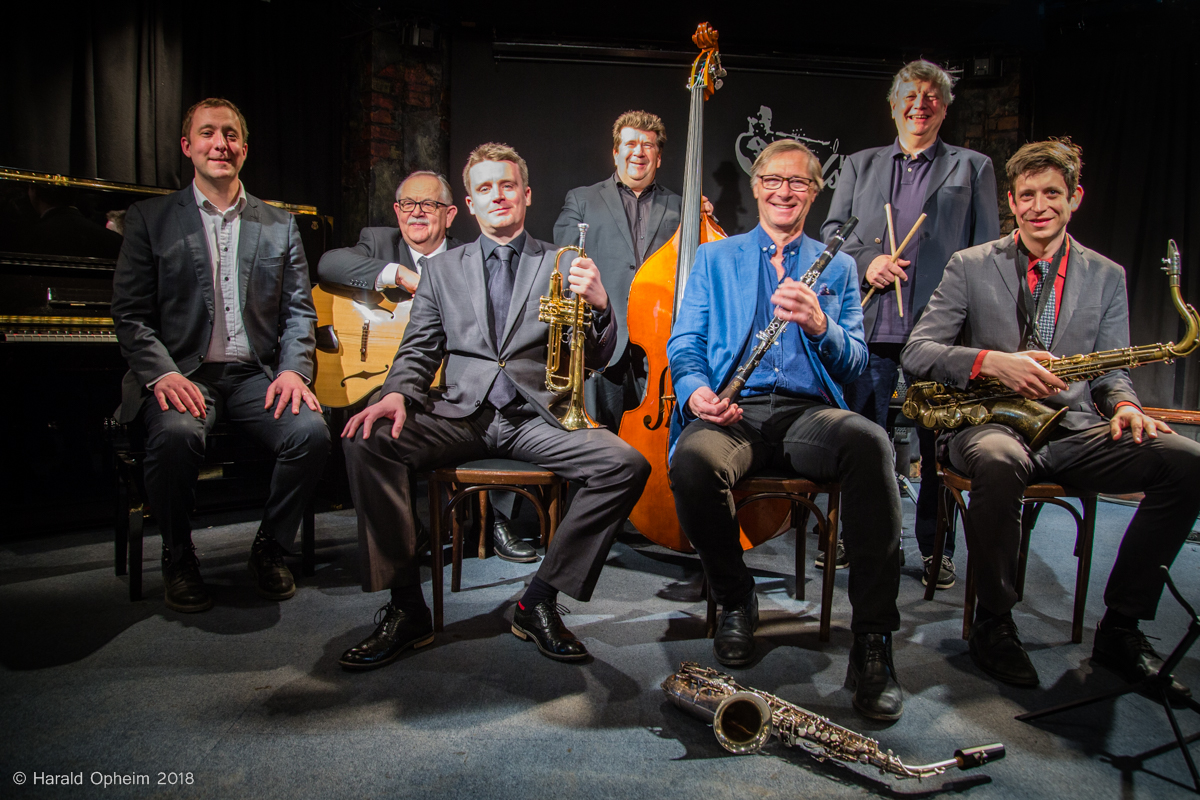 David Skinner - piano
Erik Eilertsen - trumpet
Georg Reiss - clarinet, alto sax
Lars Frank - clarinet, tenor sax
Børre Frydenlund - guitar, vocals
Svein Aarbostad - double bass
Bjørn Olufsen - drums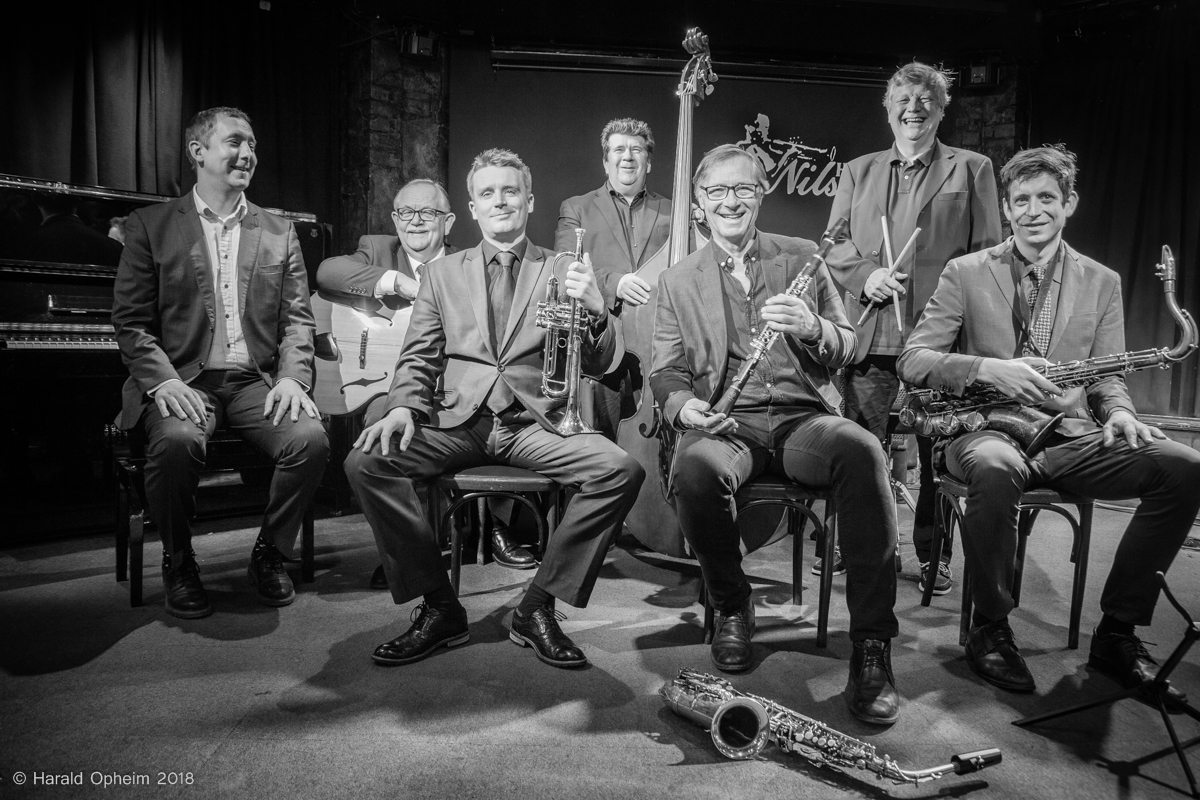 Jazzombies plays classic jazz tunes, by for example Benny Goodman, Fats Waller, Duke Ellington, Nat King Cole, and George Gershwin, as well as originals by David Skinner. The size of the group varies from a quintet to an octet. We play both Lindy and Balboa swing-dance events, mainly in collaboration with Bårdar Swing Club, as well as jazz clubs, festivals, and private engagements. The band prides itself on great tunes, interplay, dancer-friendly rhythmic variation, and huge reserves of swinging energy!
Here's some highlights from swing dance events:
In the following tracks, from a concert at Herr Nilsen, Oslo in November 2015, the line-up was:
Anders Bjørnstad, trumpet; Lars Frank, sax and clarinet; David Skinner, piano; Børre Frydenlund, guitar; Svein Aarbostad, bass; Bjørn Olufsen, drums.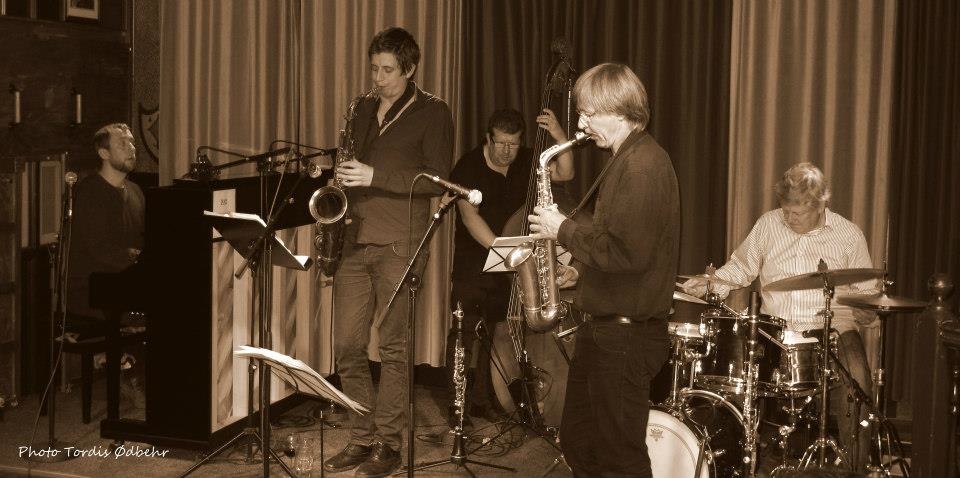 Jazzombies playing Asker Jazz Club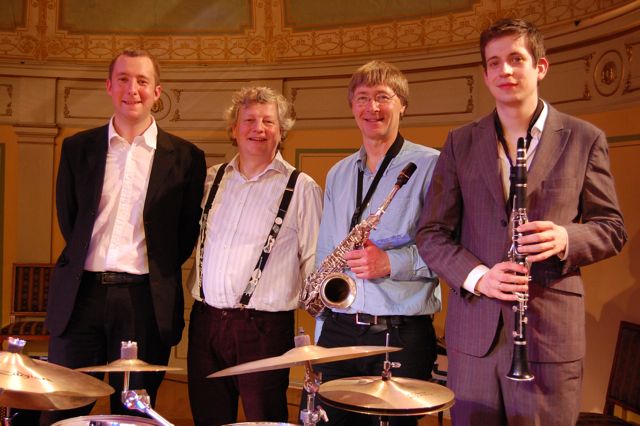 Some of the Jazzombies at Gamle Logen, Oslo: David, Bjørn, Georg and Lars
You can also check out the related Fats Waller Project. We play our arrangements of the music of the late great Fats.