"Shchedrinfected": A creative approach to the music of Rodion Shchedrin



In February/March 2009 David Arthur Skinner and Joachim Kjelsaas Kwetzinsky went on a tour of five Norwegian universities with a project based on Russian composer Rodion Shchedrin's preludes and fugues. We held improvisation workshops and gave concerts. Biographies, repertoire, sound samples and tour dates are to be found here.



| | | |
| --- | --- | --- |
| | | |
With this project, our intention has been to investigate the "grey area" which lies between modern classical and jazz styles and methods of performance. Both classical music and jazz have become increasingly eclectic, drawing sounds from every imaginable source. Even for trained musicians it is often difficult to tell, by listening alone, whether a piece is pre-composed or improvised, especially when the instrumentation is genre non-specific. The difference is, therefore, unclear: classical musicians read music, to be sure; but the effect they want is one of spontaneity. On the other hand jazz musicians improvise, but they also want to create a sense of cohesion and structure. So by placing music of both composed and improvised origins literally side by side on the concert platform, we hope to highlight this similarity. The workshops we held provided students on both classical and jazz courses with a rare opportunity to work together, which we hope was an interesting experience for all concerned.
Shchedrin's preludes and fugues are an ideal focus for this kind of experimentation. The preludes often have a very improvised flavour, while the fugues are often powerfully rhythmic. There is also a strong sense for melody, despite their apparent dissonance and considerable complexity.
After an intense weekend of practise in Oslo, our first engagement was at Stavanger University. We held a workshop for students on the Monday at Lille konsertsal. The first half was mainly devoted to a presentation by Joachim about Shchedrin.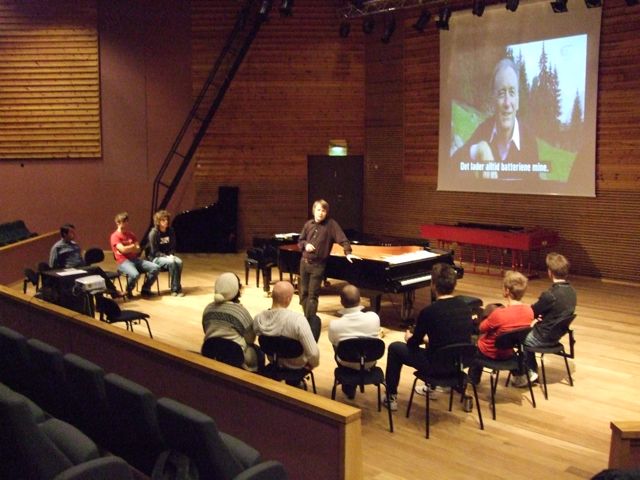 In the second half David gave a brief talk on the use of classical music as a basis for improvisation: that is, different ways for an improvising musician to approach composed material. Then it was the students' turn to play. The examples we worked with in this instance were Arietta by Grieg, and an excerpt from Catalogue des oiseaux by Messiaen. We were impressed how open the students were to this kind of experimentation, and we received several positive comments afterwards. It is exciting to encourage collaboration between people working within these apparently separate disciplines, since both of us have found it a rewarding experience, and such "crossover" projects appear to be rare.
The concert on the following day went well. We were helped with the organisation of this stage of the tour by a great team: the leader of the organisation for new music in Stavanger Petter Fadnes (whom David met for the first time in Leeds many years ago), the Stavanger University concert director Kyrre Sassebo Haaland, and the recording engineers who work for the Institute for Music and Dance.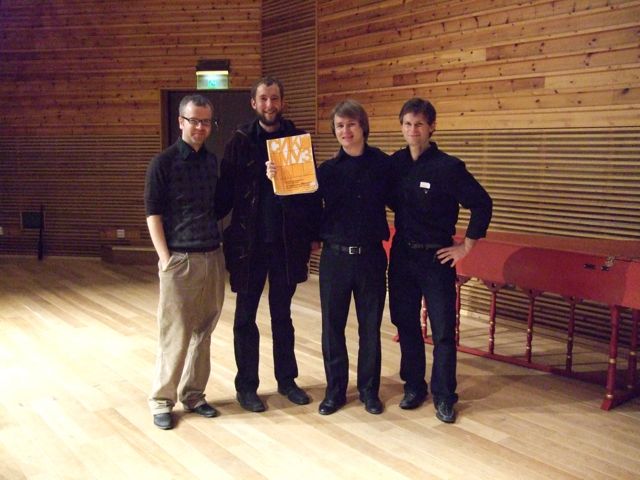 Petter, David, Joachim and Kyrre
The following day we travelled to Bergen to perform at the Grieg Academy. Joachim gave another talk on Shchedrin, this time to the composition class. He focused on some of Shchedrin's unusual works, especially his epic "Musical Offering" (scored for the extraordinary combination of organ, three trombones, three bassoons, and three flutes), and his "polyphonic preludes" which make use of every conceivable polyphonic technique. We had a small audience at the evening concert, but those who were there received us enthusiastically. Among those there was David's composition teacher Morten Eide Pedersen.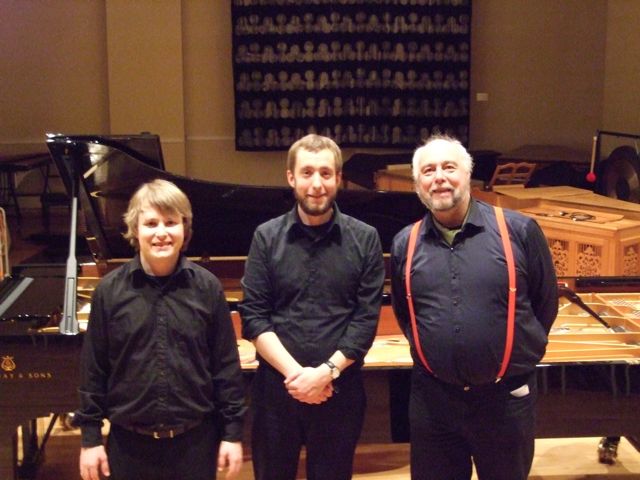 And so on to Tromsø. Often described as the "Paris of the North", this city has a long history, and a traditionally packed musical calendar. It also has several unusual architectural features, such as the museum shaped like falling blocks of ice.
Both the workshop and the concert took place on the same day, and once again the students proved themselves to be open to experimentation. We worked with the unlikely starting material of a concerto by Ravel and a sonata by Haydn. It was fun to see these pieces transformed.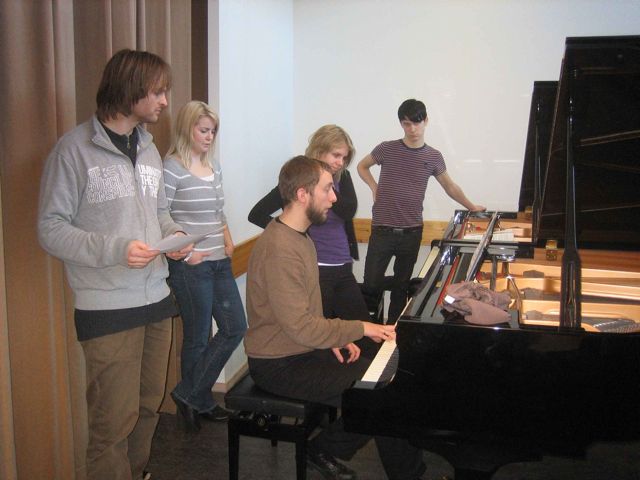 The concert room at Tromsø University is quite small and intimate. Our concert was well-received and we were happy to meet the well-known pianist Tori Stødle.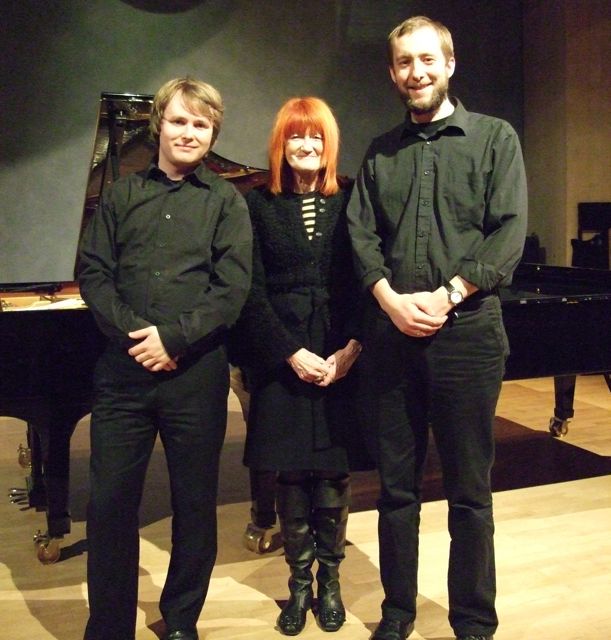 After visiting the north we had a couple of days at home before heading for Kristiansand, at the other extreme of the country, on Tuesday 3rd March. We played at the Sigurd Lie Hall in Musikkens hus, a beautiful room with an excellent acoustic. (Sigurd Lie was a famous songwriter from Kristiansand.)
Here we were looked after by piano professor Trygve Trædal, who helped us arrange this part of the tour. After perhaps our best concert so far Trygve took us to an excellent restaurant to celebrate.
And so it was time to take the train to Oslo for the final engagement of our tour at the Norwegian Academy of Music. As always at NMH the quality of the instruments was impeccable, and we were fortunate to have a numerous and enthusiastic audience.
The concert was reviewed by student newspaper Universitas.You can read my translation, or the original Norwegian.
This concluded our first tour together, which was an exciting and worthwhile experiment. Neither of us had directly collaborated over genre boundaries before in this way, and we hope to be able to continue our project elsewhere in the not-too-distant future. Thanks to all those who helped us organise our tour, and to all the students who took part in our improvisation workshops.